CARL PALMER'S ELP LEGACY SET TO EMBARK ON WORLD TOUR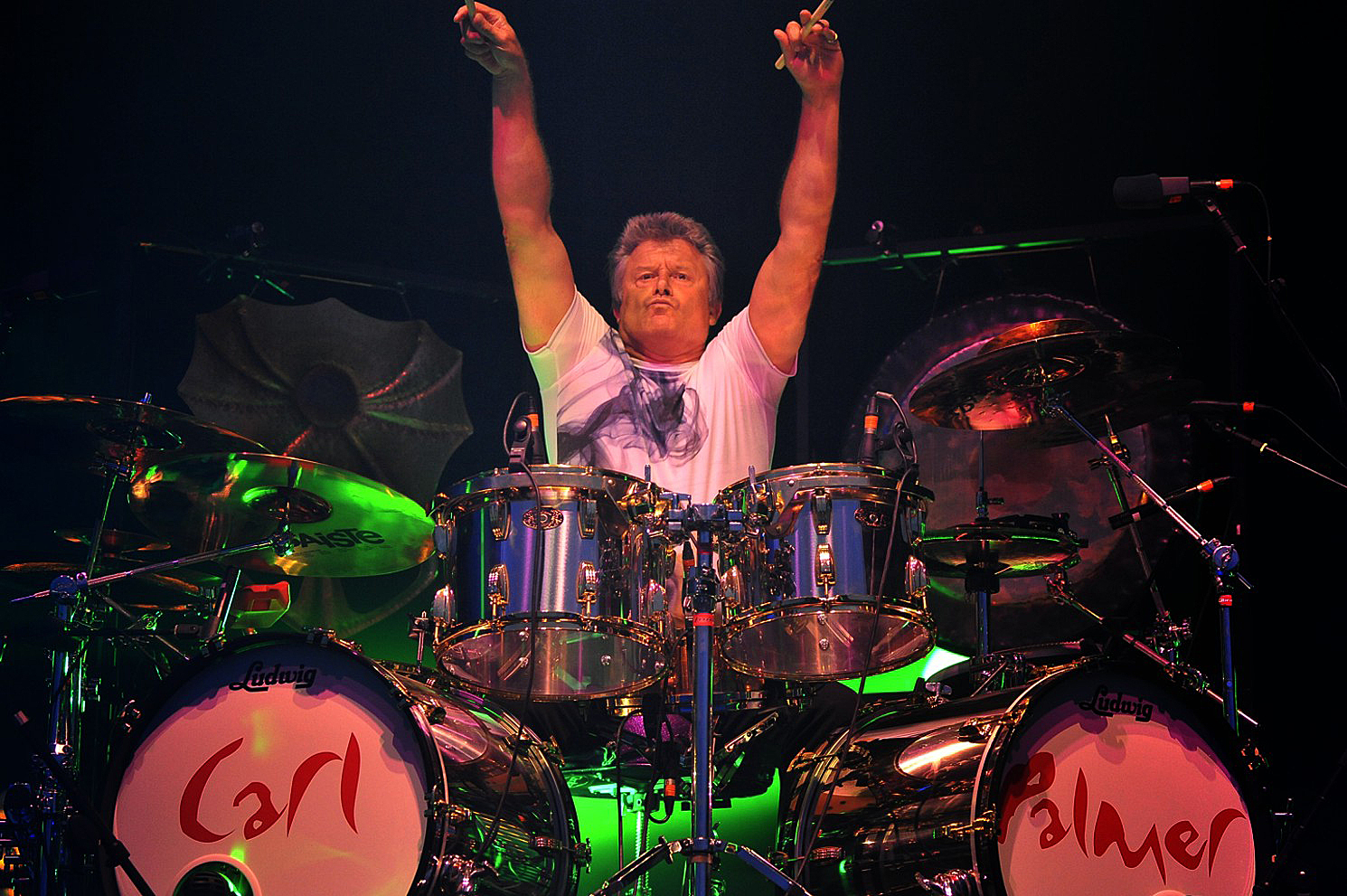 CARL PALMER'S ELP LEGACY
SET TO EMBARK ON WORLD TOUR
NEW TOUR, NEW CONCERT DVD, AND NEW SIGNATURE ART COLLECTION "A TWIST OF THE WRIST" ALL FORTHCOMING…
Drummer Extraordinaire Announces
"TWIST OF THE WRIST 2013 TOUR"
CARL PALMER and his band set to present an entire evening of the instrumental rock classics of EMERSON LAKE & PALMER,
to audiences in Japan, The Caribbean, South America,
The U.S., Canada, and Europe
Carl Palmer, among the most renowned drummers in rock history and a founding member of both ELP and ASIA, is returning to the world stage for an extensive solo tour that will celebrate the release of his new
DECADE DVD (which chronicles the 2011 tour show) and a new collection of fine art, recently done in conjunction with California's Scene Four Art Studios.
" I am thrilled to be gearing up for my return to live performing," said Palmer from his home in London. Palmer is gearing up to return to professional work after being sidelined for over two months when he contracted the serious E Coli infection, while on tour with ASIA in the United States. The illness caused the cancellation of ASIA's 2012 UK tour, the first time in his professional career that one of his tours had to be cancelled.
Adds Palmer: "My bout with E Coli was extremely serious, but fortunately I have had great physicians looking over me, and I am well on the road to recovery now." The tour will begin with shows in Japan, followed by the Caribbean-bound CRUISE TO THE EDGE featuring YES, Steve Hackett, UK and Carl Palmer's ELP Legacy. Upon returning from the cruise shows, Palmer will embark on a tour of South America, and then begin his US/ Canadian leg on April 11th, ending in Bay Shore, NY on May 11th. 2013. Palmer will continue touring Europe before and after these dates.
Entitled "Carl Palmer's ELP Legacy Twist Of The Wrist 2013 Tour," the long road trek will feature a show that presents bold, new arrangements of the best-loved instrumental music of ELP, and other composers. A multi-media experience combining music and video projection, the show promises to be among the most musically compelling tours of the year. Carl Palmer Legacy is a red-hot power trio that features Palmer on drums and percussion; guitarist Paul Bielatowicz and bassist Simon Fitzpatrick.
"Since 2001, I have been playing with my own power trio, replacing the keyboards with electric guitar," says Palmer. "I felt that was the only honest way to approach the music of ELP. I didn't want to have a singer trying to sound like Greg Lake. ELP did so much instrumental music, this format made sense to me. Hearing the keyboard parts done on guitar is certainly different, but just as satisfying. The idea was to re-invent the music; there will be several new classic ELP tunes this time around."
The tour coincides with the release of both Palmer's new concert DVD Decade, (a multi-camera video shoot captured at Pittsburgh's MusikFest) and Palmer's first signature collection of Fine Art, created completely from movements captured while he was drumming. A Twist Of The Wrist – The Carl Palmer Art Collection, is the result of collaboration between Palmer and the acclaimed Los Angeles Art Team, Scene Four. The collection is a series of signed and numbered prints of stunning visual images constructed by capturing rhythm. The images combine motion, color, and lighting into some of the most compelling fine art visuals ever created. This very limited Twist Of The Wrist art collection is available at www.CarlPalmerArt.com starting in February 1st, 2013.

Palmer has released four solo albums since the last ELP tour in 1998. They are: DO YA WANNA PLAY?, a 2 CD anthology and WORKING LIVE Vol. 1, Vol. 2., and Vol.3, (released on Eagle Rock). He also released the popular Carl Palmer Live In Europe DVD in 2005. The new Decade DVD features a performance from the band's 2011 tour and includes numerous cinematic images, which were used in the stage show. Also, since his last solo tour, Palmer has also remained active with ASIA (Geoff Downes, Steve Howe and John Wetton), touring and recording since they reunited in 2006. The band recently celebrated its 30th Anniversary.
As for ELP, Palmer closed that chapter of his life when the band played a final show in 2010 at London's High Voltage Festival, where they celebrated their 40th Anniversary. "ELP has ended its on again off again existence when we did High Voltage. We had a great run and remain friends, but the best way I can honor our musical legacy is to present that music the way I do with my own band. "
For this solo band tour, Palmer will again meet fans after each show, doing autograph signings at most venues.
Carl Palmer's ELP Legacy will play nearly two hours and drum enthusiasts can expect an evening of compelling percussive skills, from the man who brought the drum set to the forefront of rock n roll music.
FOR ALL THINGS CARL PALMER: www.carlpalmer.com
CARL PALMER'S ELP LEGACY
TWIST OF THE WRIST 2013 WORLD TOUR
(thus far…)
09 Feb Sat Tokyo, Japan Shimokitazawa Gaeden
10 Feb Sun Tokyo, Japan Takadanobaba Area
March 1 – 16th- EUROPEAN TOUR DATES TO BE ANNOUNCED
PAN-AMERICAN TOUR 2013
25-Mar Mon Cruise to the Edge Ft. Lauderdale, FL
26-Mar Tue Cruise to the Edge Caribbean Sea
27-Mar Wed Cruise to the Edge Caribbean Sea
28-Mar Thu Cruise to the Edge Caribbean Sea
29-Mar Fri Cruise to the Edge Caribbean Sea
30-Mar Sat Cruise to the Edge Ft. Lauderdale, FL
4-Apr Thu Teatro Nescafe de las Artes Santiago, Chile
5-Apr Fri Cine Plaza Mendoza, Argentina
6-Apr Sat Teatro ND Ateneo Buenos Aires, Argentina
7-Apr Sun La Trastienda Club, Montevideo, Uruguay
8-Apr Mon Brazil- Venue To Be Announced
9-Apr Tue Argentina- Venue To Be Announced
11-Apr Thu Canyon Club Agoura Hills, CA
12-Apr Fri The Coach House San Juan Capistrano, CA
13-Apr Sat Brick By Brick San Diego, CA
14-Apr Sun Saint Rocke Hermosa Beach, CA
17-Apr Wed Soiled Dove Denver, CO
20-Apr Sat Arcada Theatre St. Charles, IL
21-Apr Sun The Magic Bag Ferndale, MI
24-Apr Wed Studio @ Hamilton Place Hamilton, ON CANADA
25-Apr Thu Empire Theatre Belleville, ON CANADA
26-Apr Fri Gesu Theatre Montreal, QC CANADA
27-Apr Sat Le Cabaret du Capitole Quebec City, QC CANADA
28-Apr Sun Toronto, ON CANADA Venue To Be Announced
30-Apr Tue BB King Blues Club New York, NY
1-May Wed Sellersville Theatre 1894 Sellersville, PA
2-May Thu Rex Theatre Pittsburgh, PA
3-May Fri Penn's Peak Jim Thorpe, PA
4-May Sat Tupelo Music Hall Londonderry, NH
5-May Sun Narrows Center for the Arts Fall River, MA
7-May Tue Rams Head On Stage Annapolis, MD
8-May Wed The Howard Theatre Washington DC
9-May Thu Bull Run Concert Series Shirley, MA
10-May Fri Katharine Hepburn Cultural Arts Center Old Saybrook, CT
11-May Sat YMCA Boulton Center Bay Shore, NY
MORE TOUR DATES TO BE ANNOUNCED