Some Additional Guns N' Roses Comments from Alan Niven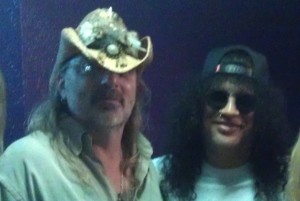 Alan Niven followed up with Dropping The Needle with some additional comments (don't shoot the messenger, lol).
I have been made aware of some of the comments made on various GnR sites. Some are clearly of a prejudiced nature, and there are many who don't seem to actually listen to what was actually said … but such is the nature of forums.

The one comment I would respond to is the statement that there were obviously no meaningful [heart to heart] conversations between Axl and myself, or him and the others for that matter. That could not be further from the truth;

There were countless such conversations and phone calls –

one of the last ones I had with Axl, I was trying to explain to him the dynamic he was engendering – that he tended to intimidate people … that his method made people defensive and alienated, that he came off like a bit of a dick – even if that was not his intent and purpose … and I suggested he think thru how he talked to people … and for him to consider how fearful people were of him …. whether that was his fault or not – I tried to empower his communication skills by illuminating his understanding – the very next call I had from him, was his call to say he wouldn't work with me anymore … so maybe that was his intent after all.

When Izzy travelled to LA to try to talk Axl into attending the Hall Of Fame event, Axl failed to show for the  pre-arranged meeting. Les plus sont changes les moins sont changes.